A spacious suite with enviable views
The luxurious Hurst Castle suite is a room of generous proportions.
Hire this deluxe studio style suite and you'll be able to enjoy a total of 48.00sqm of space.
The accommodation includes either a super king-size bed or twin beds.
It has a large private east-facing balcony, enjoying unrivalled views overlooking Sturt Pond Nature Reserve, Hurst Castle and The Needles on the Isle of Wight.
The Hurst Castle Suite is most suitable for couples, wanting a more luxurious overnight stay, or families with small children, as there is an additional pull-out bed and plenty of room for an additional Z-bed or cot.
Amenities
Super-king size bed (6ft) or Twin beds (as required)
Lounge area with a large L shape leather sofa
Large wide screen Smart TV
En-suite Bathroom (with a bath and shower over)
Dining area with large circular table and six chairs
Kitchenette with a sink
Dressing-table
Fridge and microwave oven, cutlery and crockery.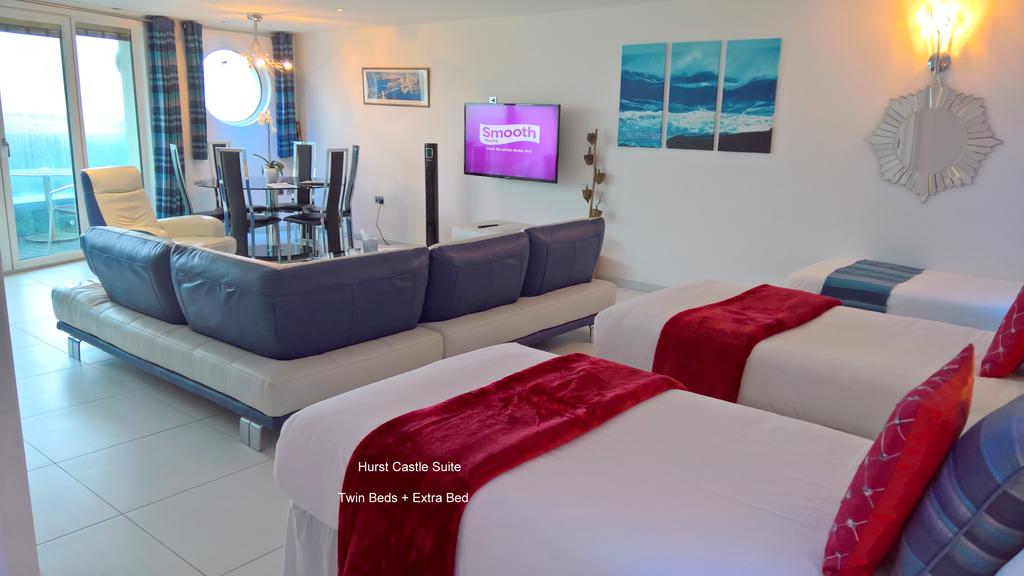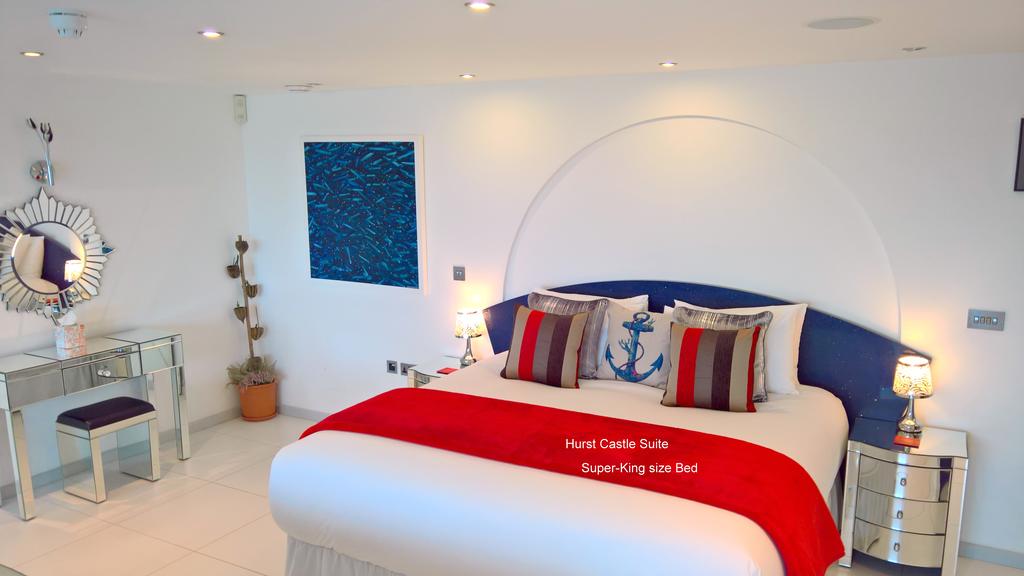 Immaculate!
"Fantastic room and immaculate throughout, owner on site to greet us and show us all the gadgets in the facility. What a fantastic sunrise view out of the bedroom window and we really enjoyed the breakfast and supper at The Raft Rocks below. The room was warm and had a lovely en-suite as well, we walked 9 miles each day and it's located in the best place for walks along the coast.""
— Mick
First Class!
"Booked for three nights, was so good we stayed longer. Spotless, stunning rooms, great views, very warm welcome from Mandy and Richard. Definitely 5 star! Great location, happy to recommend, will return again."
— Lee & Geoff (Trip Advisor, March 2018).
Fantastic View!
"What an amazing hotel. Incredible location to completely get away from things. Funky, relaxed, high standard of decor and amenities. Run by the friendliest staff I have ever met. True personal service which is rare to find. I will definitely be back."
— Cindy Clarke